With more of us now working from home than ever before; a properly functioning office space is a must for productivity. Follow these tips for designing your home office.
Whether your home office is designated space for running a business, your remote workspace or simply a nook for paying bills and answering emails; it's nice to have a place you'll feel comfortable in.
As an Amazon Associate I earn from qualifying purchases. You can read more about my disclosures here.
I began working from home in 2014 when I launched my wedding planning/design business and I am a firm believer that you need a separate office. The kitchen table just doesn't cut it!
Location, Location, Location
You'll likely spend many hours in your home office, so don't stiff yourself on space and privacy. We moved into our current home in 2013 and the master bedroom has a large sitting room with lovely windows and custom built ins so this space was the perfect spot!
Don't sacrifice form for function
Your desk, shelves and storage should serve you, not the other way around. Consider your workflow and what items you need at your fingertips before investing in furniture, and then look for pieces that are both beautiful and functional.
I implement storage bins on my shelves that neatly hold my gift boxes, ribbon, jewelry cards and shipping supplies so items are tucked away but easy to grab when needed.
Home office furniture should also complement other rooms in your house so it all flows.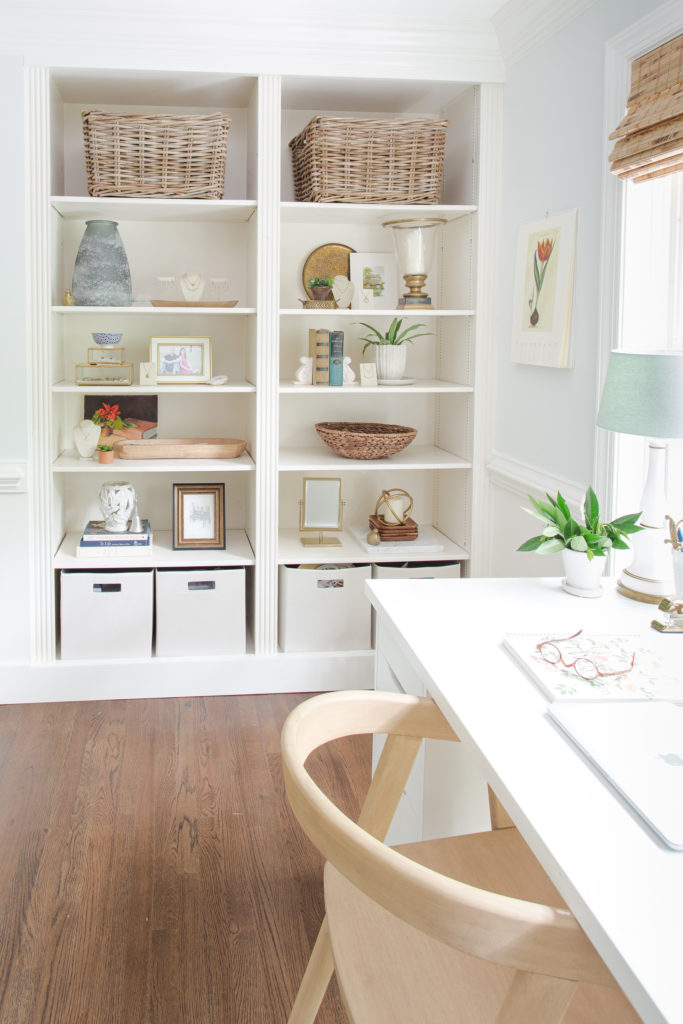 Paint the walls a color you love
You need a color that gets your work motor humming. For some people, that's a bright, cheery color like orange or lime green. I need a calming neutral shade that keeps me focused. Find out more about how certain colors can affect your mood.
Give yourself a view
Position the desk where you can stare at something more interesting than a blank wall when you glance up from the computer. A window is ideal, but if you're in a windowless space, hang a pretty picture above the desk, or position your chair to face the door.
Choose homes accessories
Go for some extras that enhance the comfy feeling of your home office, like a pretty mug for a pencil holder, trendy notepads and sticky notes, and a decorative waste basket. Wrap your bulletin board in a gorgeous fabric, and hang inspirational prints on the walls, whether that's simply your kids' framed artwork or a classic painting.
organize vertically and horizontally
Many home offices aren't bulging in square footage, so using space efficiently is imperative.
Hang floating shelves on the walls to get papers and office equipment off the desk, and use vertical file folders on the desk to keep important papers within arm's reach. If you don't have bookshelves; wooden or metal cube storage is a fun alternative since each space can be used for books, knickknacks or baskets of odds-and-ends.
I have two desks in my office; one for computer/paperwork and another desk where I make the jewelry and keep tools and supplies.
Let there be light
Make sure your office has plenty of light to cut down on eye strain and headaches. Position the computer monitor so there's no glare from a window or overhead light, and put a small lamp on the desk for task lighting.
My home office is where I run my businesses and staying neat and tidy with a handmade business does have its challenges. I keep my supplies organized and within arms reach.
Creating a calming, neat space allows me to optimize my work flow to serve my customers the best way possible.
Hope this inspires you to create a home office space you love; no matter the size or the location in your home.
Sources:
Desks – Combination of drawers and a desk top
Wall Paint Nebulous White
Trim Paint is Benjamin Moore White Dove
Desk Lamp – Vintage White milk glass lamp from thrift store which I rewired