Facebook Marketplace may not be the first place you think of when it's time to start shopping around for a kitchen table, dresser or rug, but maybe it should be.
Creating a home my family loves makes me really happy and brings me joy! I do appreciate a good deal and definitely shop around…especially when it comes to furniture. You might want to skip retails stores and head over to Facebook. You can furnish your home with Facebook Marketplace and I'm going to show you how.
My secret is to design a high-end looking home with minimal amount spent and this is where Facebook Marketplace comes in!
Vintage Cane Bench – $65
When I first moved to the DC area 19 years ago…WOWZA! I took a job on Capitol Hill working for a congressman making peanuts. There seems to be a large misnomer that working on The Hill pays well. It does not! Especially for living in or around DC. It's VERY expensive.
Cabinet – Free | Pottery Barn Rug – $200
Many other staffers had mommy and daddy paying their way. Their own salary only went toward clothes and eating out. My salary was what I actually had to live on. No mom or dad handing me cash and I quickly learned how to furnish my space on very little. When I moved to DC everything I owned fit into my little sedan. That was all I had to my name!
Thankfully I knew how to put designing on a budget into practice and quite frankly I find it fun. There is something about the thrill of the hunt, finding a great buy, and being able to furnish your home with vintage or designer items in a unique way.
Interested in finding great pieces in this hot shopping domain for yourself? Here are my top tips for getting a great deal, finding quality items, and more.
Set Up Your Marketplace search
I live outside of DC giving me access to parts of Virginia, Maryland and DC itself. I set up an 80 mile radius from my zip code and sometimes I find items close to me and other times I will drive 45 minutes to over an hour each way. Establish how far you are willing to go. The worst thing is to search aimlessly only to find a great item in Ohio…for me that's a no go!
Tip: If you live in a small town where items on Marketplace are lacking and you are willing to drive, expand your search reach.
Search using strong keywords
Make a list to narrow your search to a small number of items at a time. I have pieces and styles in mind that I look to replicate. It can become overwhelming if you don't have a specific list of items you're looking for.
A lot sellers don't know how to properly describe the item they are selling. They are just trying to get rid of it. This means you will need to get creative with your search terms. Think of all the ways to describe something you're looking for and use those words to search.
Know what quality looks like
We all know about the modern brands; Pottery Barn, West Elm, Arhaus, etc., but there are great furniture brands that have been around for a long time which some people may have never heard of.
Sometimes sellers don't realize the furniture brand they are selling or the quality of a piece, but if you know what quality is and have a keen high you can score great items.
King Size Bed – $350
Our bed is from a brand named Pennsylvania House. They are no longer in business but they sold in all the high-end furniture shops and their quality amazing, made in the USA furniture. I found our king size bed for $350 and it is super, duper heavy and amazing quality. The seller said she paid $2200 for it 25 years ago.
Be persistent & patient when searching Facebook Marketplace
I know from first hand experience that constantly searching can be exhausting, but if you eventually get the piece you've been looking for, it's worth it.
Do not expect to furniture your home quickly; this takes time. This isn't Amazon where you find what you want and it's in your house in 48 hours or less. Browsing takes time. I am SUPER persistent and patient. When I have an item I am looking for I will wait it out.
Solid Wood Table & Bench – $100
I wanted a round table for our kitchen to replace the rectangle one (which was also a FBM find, but it was a little too big for the space). I began my search for a 48" round pedestal table in April and I didn't score one until January. Now, I saw many I wanted but someone either got to it first or it was more than I wanted to spend.
Patience and Persistency is key and it reaps great rewards.
Restoration Hardware Table – $200
Set a Budget
Setting a budget for used, low-cost furniture seems almost silly. Trust me, it's a good habit or in the end you may spend more than necessary.
This table the owner listed it for $500, but the top needed sanding and re-staining. An easy project but $500 for something I had to repair…no! I waited and watched and then one day she lowered the price to $200 and I picked it up that evening! Patience my friend! Patience.
Also be willing to pay more than the other buyer if it's an item you really want. Sometimes offering over the asking price for persuasion power may work, but still remain on budget.
Submit Payment to hold
This is a new, common message I've been sending and receiving this year. Given Facebook Marketplace is so hot and the good products have high demand, multiple people are trying to score the same thing. To show you're serious, sending a deposit or full amount is a good idea to quickly secure an item. I have sent and received payment via Venmo or PayPal.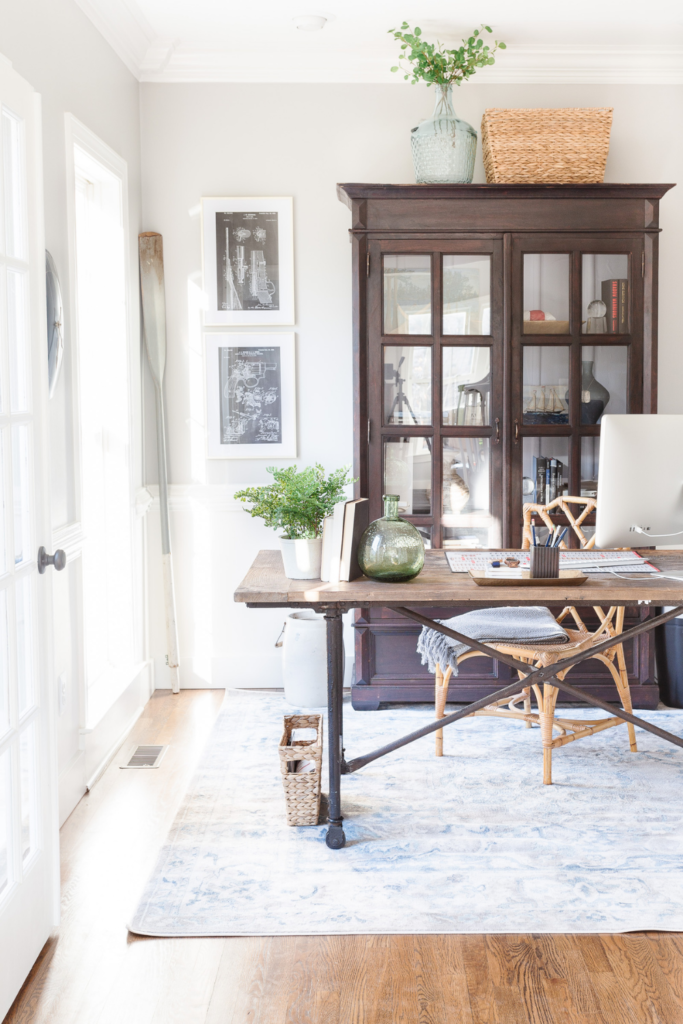 Cabinet – $350 | Table – $500
Be flexible/fast with pickup
If it comes down to multiple offers or interested buyers, you want to make the transaction as easy as possible for the seller. If the seller wants the item picked up that day, make it happen. Are they only available during evenings? Let them know you're flexible and can accommodate.
NOTE: Always put safety first! Make sure someone knows where you will be and who you will be meeting with, and if you're nervous about going alone, take someone with you.
Just remember…patience and persistence.
Give Facebook Marketplace a try. You will be surprised how addictive it can be. It is a great way to design your home with most of the time one of a kind pieces and/or pieces at a fraction of the cost of retail.
RELATED Facebook Marketplace POSTS:
How to Shop on Facebook Marketplace