Cozy Winter Decorating Ideas
Need to cozy up your home for the winter? Here are four winter decorating ideas to keep the cold outside and the warm and cozy inside.
As much as I want spring to hurry up and arrive we still have several more weeks to go. Instead of longing for spring, I am trying to embrace winter and create a cozy space with these winter decorating ideas.
Once all the Christmas decor is down and packed the house can feel bare. Winter decor doesn't have to be sparse and depressing. I like to think of winter and spring decor living together in perfectly harmony where it's easy to transition from these two seasons with just a few small changes. Try to incorporate winter decor pieces that you can keep up all season long.
"If the colder weather and shorter days are causing you to feel the winter blues, you're not alone" says Dr. Lindberg. I say that adding some winter decor and cozy elements to your living space can help you feel relaxed while you wait for the arrival of spring.
A warm, inviting atmosphere and a fresh start is how I like my home to feel in the winter months. So if you've found yourself feeling stuck in how to decorate for the winter months, I hope this helps a little bit.
My favorite winter decor
(Affiliate links are provided below. Please see my full disclosure.)
Add in warm, cozy textiles
Nothing says a cozy winter space then warm blankets and pillows. I love incorporating wool, velvet, knit and any other soft, warm throw pillows and blankets to curl up with on the sofa. I start with textiles and work from there. Since blue and green appear in nature year-round (and they just happen to be my favorite colors) they are easy to use in year-round decor as well.
favorite winter textiles

Add in Greenery and Plants
Keeping a ton of house plants alive is not my idea of spending my time wisely, but I love a mixture of real and faux plants to add life to a space. Greenery just has a way of making a room feel just right.
Flowers say "spring" to me so right now I'm skipping the urge to pick up some flowers at the grocery store, but incorporating houseplants and greenery I'm all about.
I have six different types of greenery just in this room and half of them are real; they other half faux. Several of these will transition right into spring.
favorite faux stems

Add in Texture
If your space is neutral, like mine, and it feels cold or boring introduce texture! Texture is always your friend. Woven baskets, raw wood, ceramics, and metallics all add dimension to a room so that it feels inviting.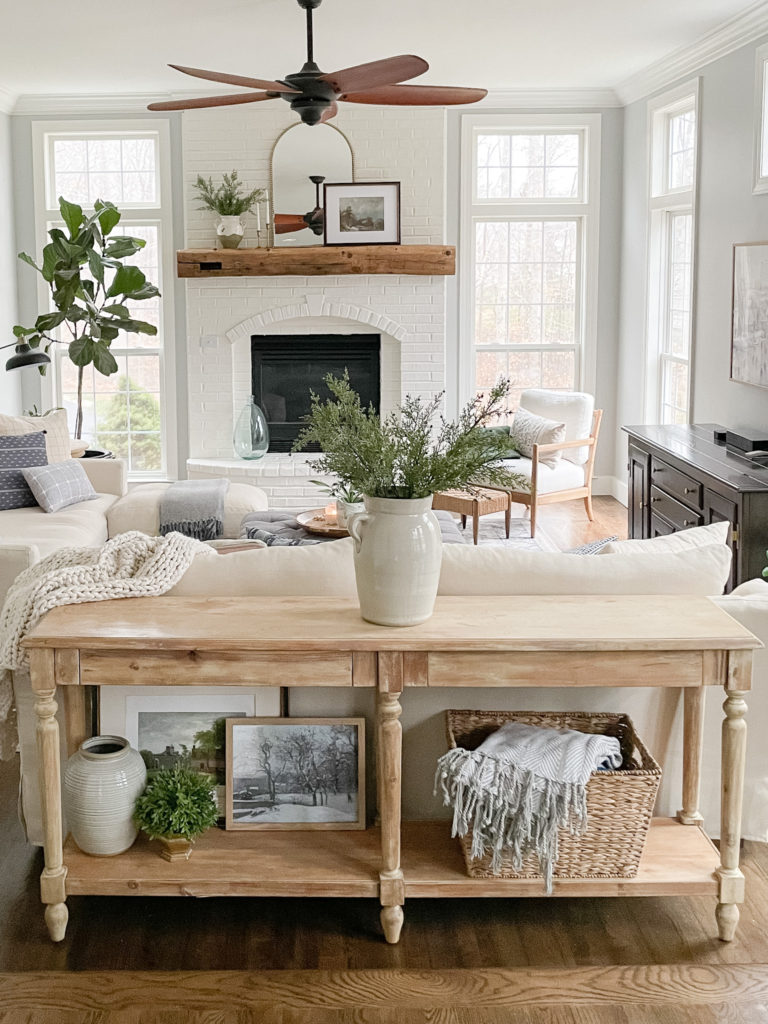 Texture and decor pieces help to warm a space and make it feel lived in. Think of baskets for your blankets, wood trays for the coffee table, concrete and wood bowls for added dimension to the space.
favorite texture decor pieces

Add in Candles
In the dark winter months, there's nothing that makes our home feel more inviting than a cozy fire and glowing candles.
favorite winter candles

I rounded up some of my favorite winter decor items in case you need help adding a cozy vibe to your home. There's nothing like a few little room changes to make a big impact on your mood in the cold of winter.
Fresh and Cozy Winter Decor

Sources for our Family Room
Wall Color: Passive by Sherwin Williams
Trim and Fireplace: White Dove by Benjamin Moore
RELATED Winter Living Room POSTS:
Cozy Winter Decorating Ideas just for you!